The Spanish Deparetment – A Breif
The Head of the Department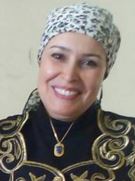 Associate Prof. Dr. Salwa Mohamed Mahmoud Hamd
Head of the Spanish Department
Definition & Objectives:
By the end of the 4 years, the students will be able to:
Understand the cultural and human backgrounds of their civilization and other civilizations.
Master the usage of both the Spanish and Arabic languages for purposes of understanding, expression, communication and writing.
Translate texts in different fields by different means efficiently and accurately.
Taste the language by understanding its expressions and its various meanings in different contexts.
The Spanish Department – Faculty of Arts at Helwan University- has an Egyptian-European Master's Program; which becomes in the regulations of the post graduate studies under a Ministerial Decree No. 4599 on 22 of October, 2014 and adopted by the Supreme Council of Universities on 28th of November, 2013.
The duration of the study in the program is: two years; following the European credit hours system. In this program, the number of credit hours is 90 hours, distributed as follows:
First year:
60 credit hours: (54 credit hours) for obligatory pre- courses and (6 credit hours) for selective courses.
Second Year:
30 credit hours: as master's thesis
The Main Objectives of the Program Are to:
Develop the student's knowledge of the Spanish language and culture.
Develop the student's linguistic and research skills in the specialized fields according to the international standards and qualifications.
Develop self-learning abilities and establish the principles of scientific research, analysis and criticism; which allow specialists to keep track with what is new and to find out about the latest developments in the field.
Qualify the graduates to work in areas related to the Spanish language and culture, such as: teaching in various stages of education, mass media, international cooperation offices, translation, tourism… etc.
Advantages of the Program:
The student obtains a common Egyptian-European degree.
The Participation of a number of unique foreign professors from Salamanca, Bologna and Italy Universities. In addition to a group of Spanish professors from Cairo, Helwan, Ain-Shams, Al-Azhar and Al-Menia Universities.
Conditions for Admission:
Bachelor's degree in Spanish from Helwan, 6th of October or Aswan Universities.
Pass the personal interview.
Required Documents:
Copy of the bachelor's degree,
Copy of the certificate of the four years,
Copy of the National ID,
Two recommendation letters,
A Motivation letter,
2 personal photos,
A modified CV ( with the takes courses) and
Any Certificates for learning or teaching Spanish language (if found).
Date of Admission:
The second half of August, for two weeks.
For further information: Contact Dr. Haiam Abdou- Program Coordinator
Email: Haabdou200@yahoo.com
Translated by:  Monica Mouris, Demonstrator
Revised and Edited by: Nahla Surour, Lecturer
English Department, Faculty of Arts, Helwan University
Uploaded By: Toqa S. Ahmed
Demonstrator
English Department, Faculty of Arts, Helwan University